Rimon cultivates the best musical talent from across Israel and attracts international students from around the globe. Rimon's priority is to nurture musicianship, creativity, and collaboration.
We strive to deliver high-quality music education with relentless dedication; an ethos that carries over to the work we do in the community at large.  Rimon's reputation stems from the school's innovative approach to music, diversity, and technological advancement rooted in Israel's dynamic and entrepreneurial culture. Rimon graduates build Israel's contemporary popular music scene and have created some of Israel's most beloved and celebrated music! Their work is embedded throughout Israeli life and culture. We invite you to be among the next generation of students to take this music forward throughout the world.
THE RIMON EXPERIENCE: One Year in English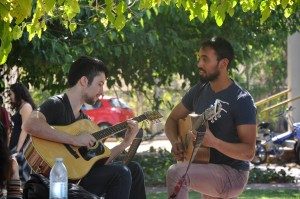 Students from all over the world can apply to come to Rimon to study for one year in English. Courses include a complete curriculum of music theory, rhythmic and melodic ear training, arranging, music technology, songwriting, composition, improvisation, private instruction, and ensembles. Admission is based on audition and interview.
Students who also speak Hebrew may elect to stay longer, and can join majors including composition and conducting, songwriting, contemporary music production, music education, performance, the Jazz Institute, or the Performance and Music Production combined major.
PROGRAMS OF STUDY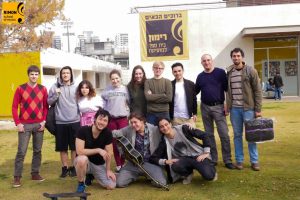 Students in all of our programs engage in a rigorous, enriching curriculum across musical and academic disciplines
Customized schedule development  meet your learning goals and course objectives
Studying contemporary American, Latin, and African-diaspora styles while being surrounded by Israeli life and the rich cultural tapestry of the Middle East and Mediterranean regions.
Access to rehearsal space, computer labs, academic facilities, recording studios, and performance spaces
Tailored career, musical, academic, and personal advising
Enrollment guidance through the visa process
Please note:  Rimon is a commuter campus and we do not offer a housing program, but our enrollment coordinator helps guide admitted students to find local apartment shared rental options. 
For more information about The Rimon Experience: One Year in English or about Pathways to Berklee via Rimon, please contact admissions@rimonschool.co.il
For information about a campus visit, partnerships, or supporting Rimon: orlee@rimonschool.co.il
To sign up for our newsletter: izhar@rimonschool.co.il  
Telephone: +972 35408882    
Campus: Shmuel Hanagid 46 in Ramat HaSharon (we  recommend you make an appointment for a campus visit).