Visiting artists at Rimon, bass legends Victor Wooten and Steve Bailey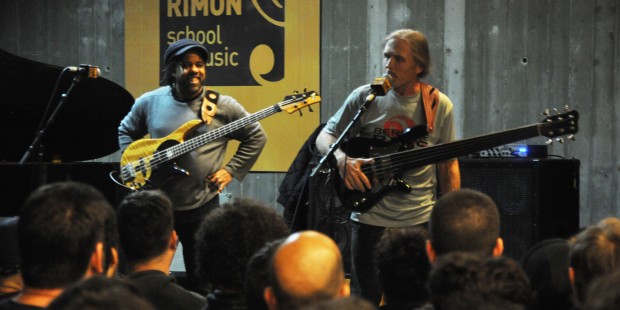 Rimon School of Music was proud to welcome celebrity bass players from the United States Victor Wooten and Steve Bailey (who also chairs the Bass department at Berklee College of Music). Arie Volnitz, Rimon's head of the Performance department and also very well-known Israeli bassist, hosted the visit, which included a joint performance which filled the 140-seat auditorium at Rimon.
This visit followed another Berklee visit which included master classes led by Rick Peckham and Daniel Ian Smith.  Bringing world-class teaching artists to engage at Rimon School is a high-level commitment as part of the Rimon Experience for students, faculty, and visiting artists alike.  We consistently seek to create special opportunities to share the stage and ideas across disciplines, genres, and intercultural approach.
Victor Wooten and Steve Bailey at Rimon- Full workshop- Part 1:
Victor Wooten and Steve Bailey at Rimon- Full workshop- Part 2: